20 Medical Emergency Conditions List
Emergency Situations List:
To prevent important and long-lasting effects on mental or physical health, some conditions require medical attention. Emergency medical conditions include- the immediate onset of symptoms, including severe pain, suspected heart attack or stroke, sudden or extreme difficulty breathing, sudden or extended loss of consciousness, bleeding that will not stop, major burns, coma, any accident, heart attack, bone fracture, etc.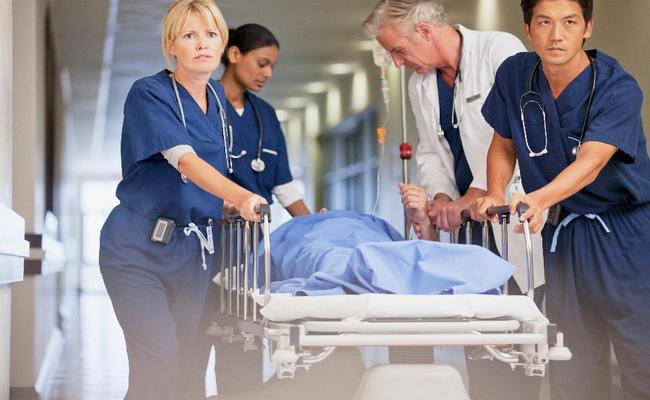 20 Types of Emergency Health or Medical Conditions:
Listed below are the conditions that constitute a possible medical emergency and may require immediate first aid, emergency room care, surgery, or care by a physician or nurse.
1. Cardiac and Circulatory:
It includes –
Cardiac arrest,
Cardiac tamponade,
Heart block,
Heart failure,
Cardiac arrhythmia: ventricular fibrillation and supraventricular tachycardia.
2. Dermatologic:
It includes –
Acute urticarial,
Angioedema,
Erythema multiform major,
Kasbah- Merritt syndrome.
3. Endocrinological:
It includes –
Acid-base disorder,
Diabetes mellitus.
4. Environmental:
It includes –
Accidental hypothermia,
Drowning,
Electrical and lighting injuries,
Frostbite,
Heat illness.
5. Gastrointestinal:
It includes –
Appendicitis,
Gastroenteritis,
Small bowel obstruction.
6. Genitourinary:
It includes –
Renal failure,
Sexually transmitted disease.
7. Infections:
It includes –
Bacterial meningitis,
Cholera,
Ear infection,
Gas gangrene,
Lyme disease infection,
Malaria infection.
8. Inflammatory:
It includes –
Allergy,
Anaphylaxis,
Arthritis,
Bursitis.
9. Infectious Disease:
It includes –
AIDS,
HIV,
Rabies,
Necrotizing fasciitis,
Sepsis,
Septic arthritis,
Tuberculosis.
10. Injury (Trauma) and Illness:
It includes –
Bone fracture,
Burn,
Crohn's disease, severe (Possible obstruction, perforation),
Chest trauma,
Child abuse,
Head injury,
Hypothermia or frostbite,
Poisoning,
Spinal injury,
Traumatic brain injury,
Wound.
11. Metabolic:
It includes –
Acute renal failure,
Dehydration,
Diabetic coma,
Diabetic ketoacidosis,
Hypoglycemic coma,
Thyroid storm.
12. Neurological and Neurosurgical:
It includes –
Acute spinal cord compression,
Delirium,
Dementia,
Meningitis,
Status migrainosus,
Stroke,
Subarachnoid hemorrhage,
Acute subdural hematoma.
13. Obstetric:
It includes –
Ectopic pregnancy,
Eclampsia: Pre-Eclampsia and HELLP syndrome,
Fetal distress.
14. Ophthalmological:
It includes –
Acute angle-closure glaucoma,
Retinal detachment.
15. Pediatric:
It includes –
16. Psychiatric:
It includes –
Anxiety,
Non-fatal attempted suicide,
Excited delirium,
Factitious disorder,
Homicidal ideation.
17. Respiratory:
It includes –
Acute asthma,
Chronic obstructive pulmonary disease (COPD),
Pneumonia,
Pneumothorax,
Pulmonary embolism,
Respiratory failure,
Asphyxia: Angioedema, Choking, Drowning, Smoke inhalation.
18. Shock:
It includes –
Anaphylactic shock,
Cardiogenic shock,
Septic shock,
Hypovolemic shock.
19. Toxicological:
It includes Overdose.
20. Urological, Andrological, and Gynecological:
It includes –
Acute prostatitis,
Gynecologic hemorrhage,
Testicular torsion,
Urinary retention.
More questions related to this article:
What is a medical emergency?
What are the types of emergencies?
What are some medical emergencies?
What types of emergency cases do you face in the medical emergency department?
What are the types of emergencies you will face in the emergency department?
Make a list of medical emergencies in the hospital.
Make a chart of medical emergencies.
List some common medical emergencies.
What is the classification of a medical emergency?
How many types of emergency departments in the hospital?
How many types of emergency are there? Maria Khatun Mona is a Founder and Editor of Nursing Exercise Blog. She is a Nursing and Midwifery Expert. Currently she is working as a Registered Nurse at Evercare Hospital, Dhaka, Bangladesh. She has great passion in writing different articles on Nursing and Midwifery. Mail her at "[email protected]"